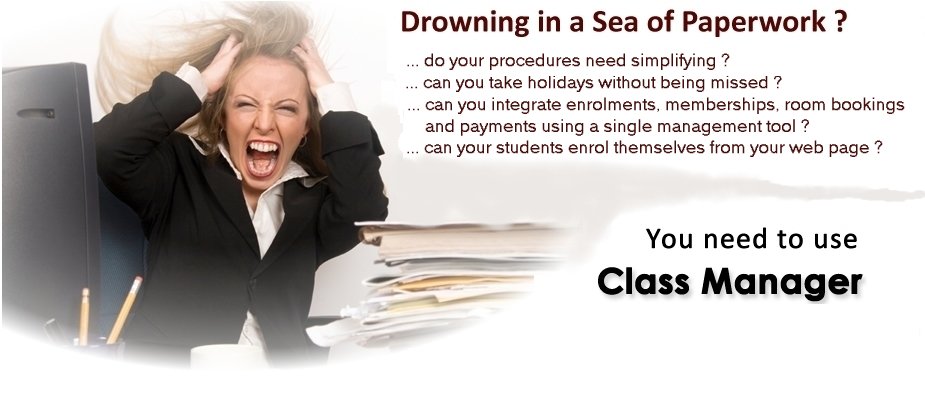 The complete Office Management Software System
for course, membership and room booking management

Easy & intuitive to use.
Web based – no software to install or maintain.
Your data is stored on our server, located in a secure Australian data centre and mirrored to our synchronised backup server.
Student self enrolment and membership renewal through your web page. Have a look at splc.org.au for an example of the seamless interface between your web page and Class Manager.
Financial and activity reports at the click of a button - exportable to Excel.
Keep track of room bookings to avoid double booking a room.
Managed memberships for individuals, committee, families, groups with either annual or term payments
Has no purchase price, training or start-up fees. You pay for what you use, after you use it.
Flexible design. We can provide a system to suit your particular requirements.
Will reduce your operational costs and broaden your customer base.
Testimonials...
It was so simple and easy to use, Once implemented, my workload was substantially reduced. I now have a system that almost manages itself.
Mauri Barlin,
Manager Darlo Drama,
Darlinghurst Theatre Company
We've been using Class Manager now for a number of years, and can thoroughly recommend it. Its support service is second to none, and is personal and instant.
Ann Reeves,
Manager Glydein Community and Learning Centre